Gage Cannabis to grant nearly $1 million to companies in 'social equity' cities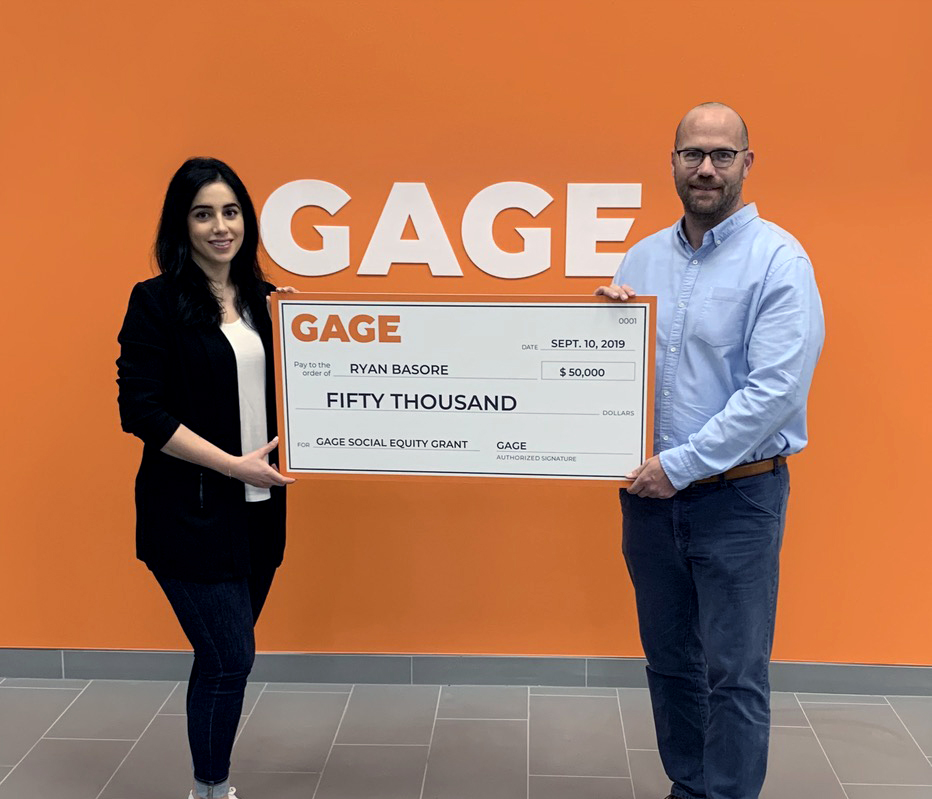 Crain's Detroit Business By: Annalise Frank
Gage Cannabis Co.'s first Michigan retail shop opens Saturday at 1551 Academy St. in Ferndale.
Shelby Township-based Gage Cannabis Co. is piggybacking on marijuana regulators' "social equity" program by divvying up $950,000 for cities disproportionately impacted by marijuana prohibition.
The grower and retailer plans to give up to $50,000 each to prospective business owners in 19 cities where the Michigan Marijuana Regulatory Agency is cutting marijuana licensing fees by up to 60 percent. The program targets minority, poorer communities such as Detroit and Flint and college towns whose residents were disproportionately impacted by the drug war.
Those getting reduced fees can also bring their business plans to Gage for additional money, as well as operations training. Gage has "witnessed the devastating impact marijuana prohibition has ... Ultimately, our goal is to strengthen the entire cannabis community in Michigan," said Rosie Riashy, the medical marijuana seller's marketing and community manager.
"We can provide high-level feedback on applications, they can shadow at one of our facilities, or we can provide feedback on their business plan from our leadership team," Riashy said.
For its first recipient, Gage chose Ryan Basore, a marijuana advocate who aims to supply provisioning centers starting in January under his Lansing-based company, Redemption Cannabis. Gage would not disclose how much money it is awarding Basore.
Asked if Gage is potentially funding competitors, Riashy said it could be a way to meet future product partners. Gage has its own products, but also sells those of other brands. It declined to disclose pricing.
Gage is promoting the grants ahead of the Saturday opening of its first provisioning center in Ferndale. It's the first of 13 planned locations, alongside 150,000 square feet of growing space and a processing facility.
The marijuana company expects to spend $50 million entering the Michigan market by the end of this year. It is among a host of companies looking to set up medical marijuana chains in the state. Another, Green Peak Innovations, opened its first dispensary in July, branded as Skymint.
Gage's 4,600-square-foot Ferndale store is at 1551 Academy St., south of Nine Mile Road near I-75, and employs around 30. Gage has room on the property for another 41,000 square feet of cultivation and processing space.
"It's a high-end experience," Riashy said. "We wanted the vibe to be a provisioning center you could send your mother to without her being uncomfortable. When you walk into the lobby, a receptionist greets you ... there are three different stations inside ..."
Gage expects to open a location in Adrian later this month at 922 S. Main St. It is also looking at Detroit, Battle Creek, Bay City, Buena Vista, Center Line, Grand Rapids, Kalamazoo, Lansing, Traverse City, Lenox Township and other communities, the release said. It wants 100 people on its payroll by 2020 and is building out a new headquarters in Troy.
The Detroit location won't be like the others — it'll be a Cookies store, under the well-known California brand's licensing deal with Gage. Green Entrepreneur calls Cookies a "cannabis, clothing and lifestyle empire" built by Berner, a Bay Area rapper and entrepreneur.
The pot company was founded in Michigan in 2017, and licensed that same year to a partner, Radicle Medical Marijuana Inc. based in Ontario.
Gage grows at a cultivation center in Warren and is building out two more in Harrison and Monitor townships for a total of 150,000 square feet. It also has a processing center fed by the Warren facility, and two more in the works by the end of the year.
It has city and state approvals for more than 20 cultivation licenses, three processing centers and the 13 retail locations. In its immediate future, Gage will also apply for a recreational license in Michigan. The application process starts Nov. 1.
Riashy declined to disclose details on Gage's founders, who have 15 years of experience in the industry and have "successfully built and grown operations with federal and multi-state licenses," according to the release.